24/7 Support
Available 24/7 to help
Secure Booking
Easy & Convenient Booking
Best Price Deal
Best Deals on Packages
24/7 Support
Available 24/7 to help
Secure Booking
Easy & Convenient Booking
Best Price Deal
Best Deals on Packages
Our benefits
Airlines reservation desk
Airlines customer service 24*7
Call now to book
Change/ cancel your flight
Call on 24*7 customer support airlines
No hold time
Airlines seats reservation
30% off for new booking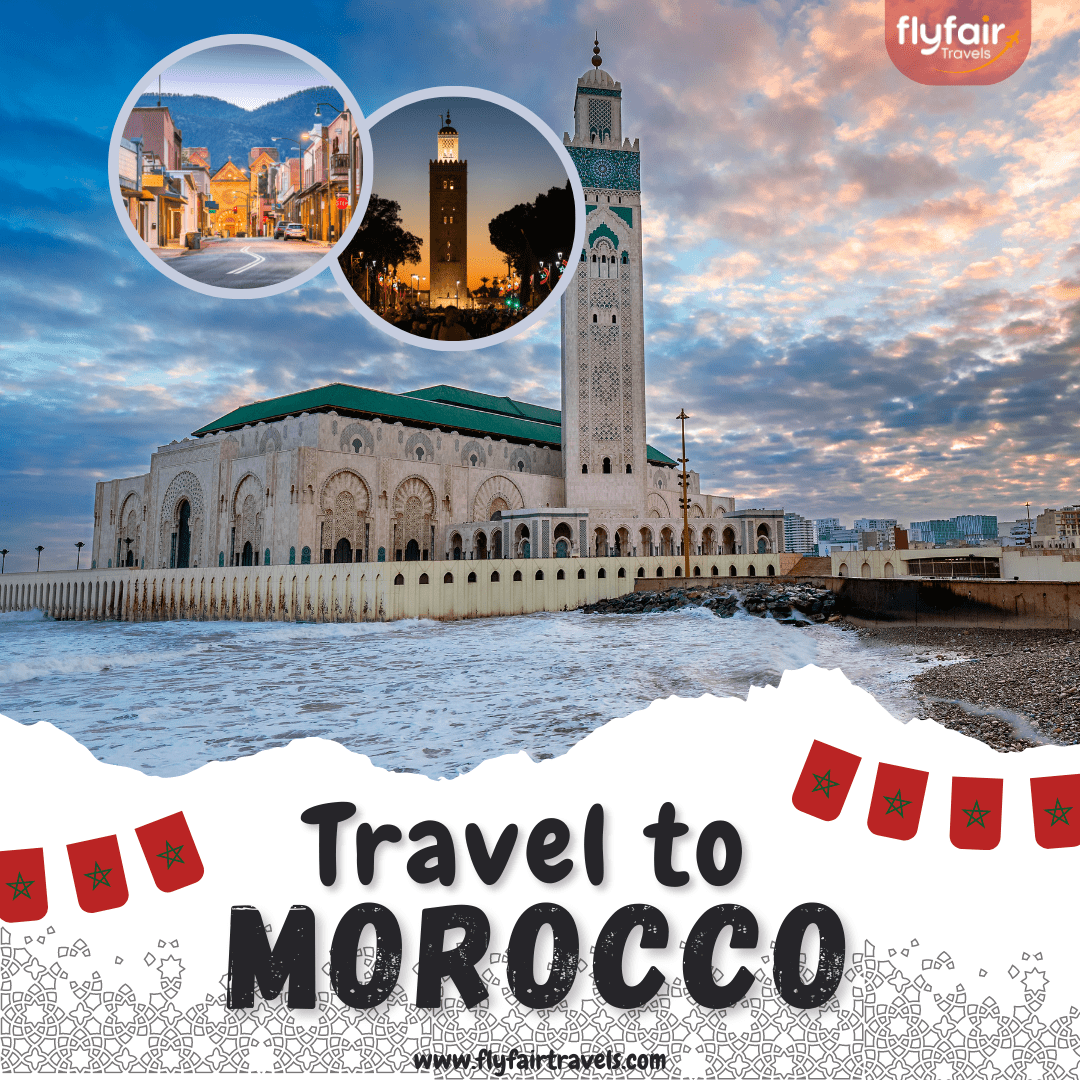 Top Places to Visit in Morocco | Top 10 Cities to Visit
Morocco is a diverse and culturally rich country located in North Africa, bordered by the Atlantic Ocean and the Mediterranean Sea to the west and north and Algeria to the east. It has a unique blend of ancient traditions, stunning landscapes, and a rich history that spans thousands of years. The Atlas Mountains and Sahara Desert make this country one of the most unique places in the world, and it has a mix of urban and rural cultures. Arabic and Amazigh (Berber) are known as the official languages of Morocco, but French is one of the most spoken languages in the country. If you are from an English-speaking region, you will not face any difficulties.
It is one of the most famous tourist destinations on the African continent, and places like the Sahara desert, Casablanca, Marrakech, Ait Ben Haddou, and the Atlas mountain range make it an important place in the region. Many famous international movies, including Mission Impossible, Troy, John Wick, James Bond, Inception, Gladiator, The Mummy, and Black Widow, are some of them.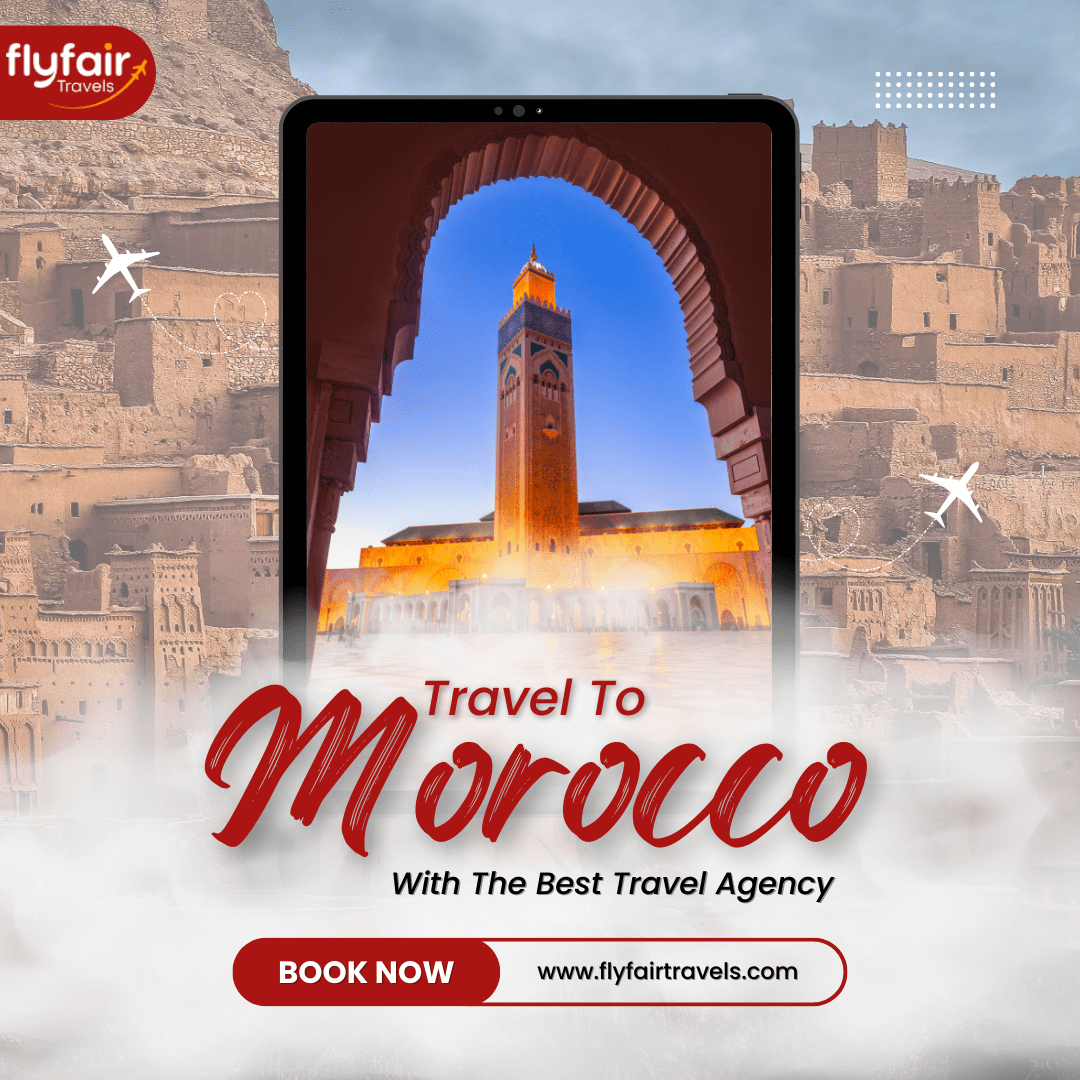 How to Reach Morocco? What are the most famous Airports in the Country?
Morocco has many airports, but only a few are famous and busiest among them. Below, we have mentioned the top five busiest airports in Morocco (passenger-wise).
Mohammed V International Airport
Marrakesh Menara Airport
Agadir–Al Massira Airport
Saïss Airport or Fès–Saïss Airport
Tangier Ibn Battuta Airport
Casablanca and Marrakech are the two major airports in the country, and most international passengers use these airports to arrive or depart. Half of the total air traffic comes via these airports.
What are the major airlines flying to Morocco?
Many airlines are flying to Morocco. Below, we have listed the top airlines flying to Morocco. Have a look -
Royal Air Maroc
Turkish Airlines
British Airways
Lufthansa
Qatar Airways
Emirates
Etihad Airways
American Airlines
Delta Airlines
Iberia
List of Top Cities in Morocco
Marrakech
The city of Marrakech, sometimes referred to as the Red City or the Daughter of the Desert, is a must-visit location for tourists who want to explore Morocco's rich culture and history. Marrakech is one of the main cities in the four pillars of Morocco. Marrakech provides a sensory assault of colors, sounds, and tastes. It is known for its busy medina, vivid souks, and renowned structures like the Koutoubia Mosque and Bahia Palace.
Here are The Top Places and things to do in Marrakech:
Jemaa el-Fnaa: Jemaa el-Fnaa is known as one of the cultural landmarks of the City. Local says Marrakech's beating heart is its lively center square. Several kinds of food vendors, snake charmers, and regional performances. At night, you can find this place transformed into a vibrant outdoor market with many food sellers and entertainment.
Koutoubia Mosque: It is the largest mosque in Marrakech, and the surroundings of the Mosque are calm and peaceful. Non-Muslims do not enter the mosque itself; Visiting Koutoubia Mosque should be the top thing to do in Marrakech.
Bahia Palace: If you want to see Moroccan traditionalism and beautiful tilework Bahia Palace should be your first preference in the city. Bahia Palace is proof of the luxurious lifestyle of the past, offered through the palace's gardens and showing nearby residents.
Saadian Tombs: These tombs are a distinctive historical viewpoint. They were re-discovered in the early 20th century. Tourists should explore the Saadian dynasty's stunningly ornate mausoleums, which date from the 16th century.
Majorelle Garden: The renowned French painter Jacques Majorelle designed this area, which features a verdant garden with an astounding array of biodiversity as well as brilliant blue buildings. Later, Pierre Bergé and Yves Saint Laurent bought the garden.
Medina and Souks: Tourists should Explore the old medina of Marrakech; it is one of the most famous places in the city. It is a maze of narrow passageways packed with other shops selling different kinds of spices, linens, pottery, and leather items. So, make your shopping interesting.
Ben Youssef Madrasa: It is one of the ancient Islamic colleges, famous for its mind-blowing architecture featuring gorgeous geometric patterns and elaborate carvings. It sheds light on Morocco's educational history. So, You should not miss this place.
Marrakech Museum: It was built in the 19th century, and it is a showcase of a diverse collection of Moroccan things, including art, textiles, pottery, and historical artefacts. You will find several antiques here.
Maison de la Photographie: Visit this museum for a unique look into Morocco's history, which features an archive of historical photographs taken during the late nineteenth and early twentieth centuries.
Hammams and Spas: Do you like traditional Moroccan spa experiences? Hammams provide a calming and purifying process, while many expensive hotels and resorts offer lavish spa services.
Gueliz and Modern Marrakech: Experience the modern neighbourhood of Gueliz to know the trendy Moroccan living. You'll find stylish shopping centres, art galleries, cafes, and many more.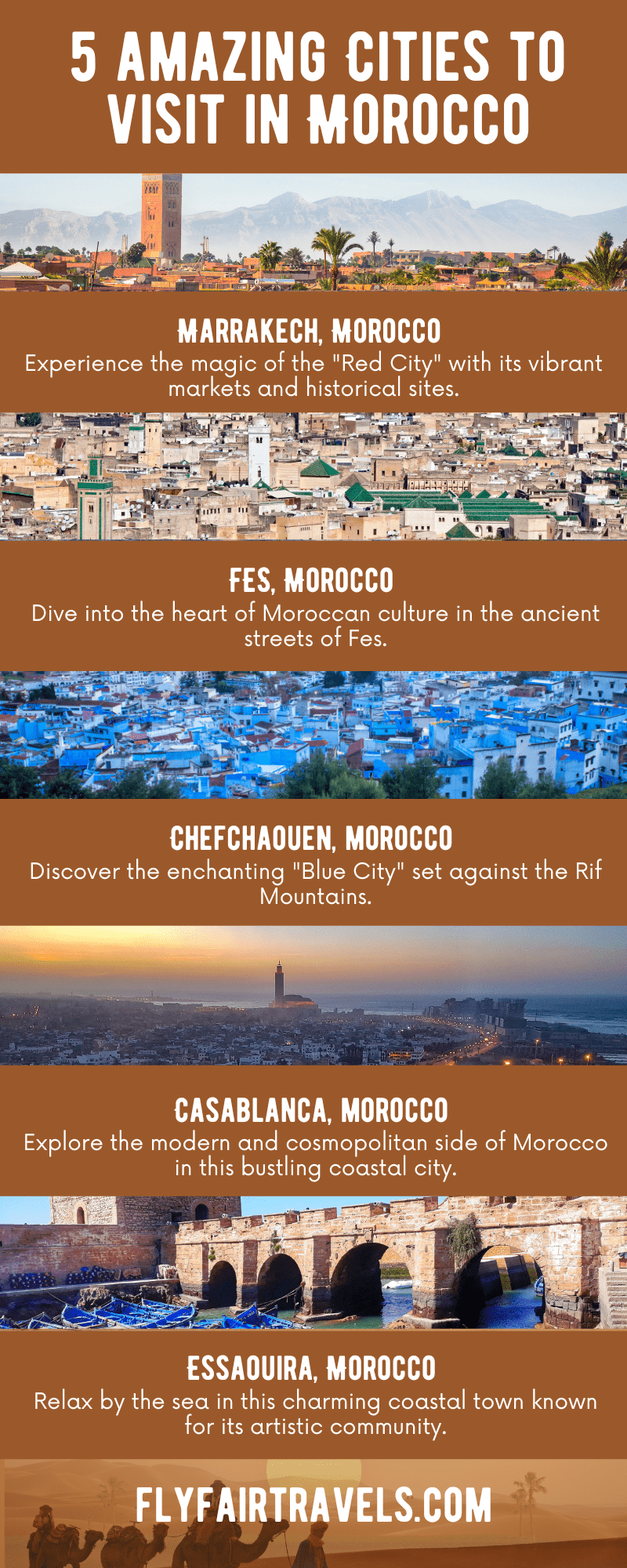 Fes or Fez
Fes, also called Fez, is another outstanding Moroccan city recognized for its part-preserved medieval architecture, historic landmarks, and involved cultural life, as well as the huge Fes el-Bali medina, which is a UNESCO World Heritage Site. Don't miss the old Al Quaraouiyine University or the tanneries. This city is deeply rooted in cultural and historical significance, and it presents a remarkable journey through ages and customs. Walking its small streets and ancient structures and interacting with natives helps you immerse yourself in the fundamentals of Morocco's heritage and today.
Here are The Top Places and things to do in Fes or Fez:
Fes el-Bali: Fes Sl-Bali, is one of the UNESCO World Heritage Sites. Its winding alleyways are lined with antique shops, tanneries, mosques, and old structures. The chaotic charm of the medina is a feature of each visit to Fes.
Al Quaraouiyine University: This institution, one of the oldest still in operation in the world, was established in 859 AD. You may observe the massive entryway and its historical significance even though the interior is typically off-limits to the general public.
Bou Inania Madrasa: This is one of the most decorated madrasas, and it showcases intricate tilework, stucco plaster, and carvings, which are proof of the finest Moroccan craftsmanship.
Chouara Tannery: At this renowned tannery, observe the traditional method of tanning leather. Large dyeing vats loaded with vivid colors provide for a distinctive sight, and you can also buy leather goods there.
Mellah (Jewish Quarter): If you are interested in Jewish history, you can discover Fes' Jewish by visiting the Mellah. Explore the Jewish cemetery and Ibn Danan Synagogue to learn about the city's eclectic past.
Dar Batha Museum: It is one of the famous 19th-century palaces. Now it is featuring a stunning collection of Moroccan arts and crafts, ceramics, textiles, and woodwork. It must be on your list during the tour of the city.
Medersa Bou Inania: This medersa (Islamic school), which shares the same name as the Bou Inania Madrasa, is well-known for its delicate building, notably its pinnacle and magnificent garden area.
Royal Palace (Dar el Makhzen): The palace's majestic entrance and elaborate gates are visible, even though you cannot access the building itself. The royal palace demonstrates how royal characteristics can be in the Moroccan style.
Fes Festival of World Sacred Music: This well-known event honors holy music from diverse cultures and brings together artists and performers from all over the world if you go when it's happening. You should join this festival if you are in the city.
Attarine Medersa: Attarine Medersa should be next on your list; it is a beautifully decorated medersa that exhibits an exceptionally high caliber of Moroccan craftsmanship with its outstanding zellige ceramic tiles and delicate wood carvings.
Nejjarine Museum of Wood Arts and Crafts: If you want to learn about Morocco's woodworking traditions and see an amazing collection of wooden things, then you must visit the Nejjarine Museum of Wood Arts and Crafts.
Jardin Jnan Sbil: If you want to see wonderful landscaped plants and fountains, Jardin Jnan Sbil's garden has everything that forces you to visit here. You will experience peace and happiness here.
Chefchaouen
It is one of the dream destinations of every photographer, situated in the blue-washed town of the Rif Mountains. It is a remarkable and lovely location due to its striking blue houses and winding streets. Chefchaouen, often referred to as the "Blue City," is a picturesque town, and its blue-washed buildings and charming streets make it one of the most entertaining and tourism-friendly destinations in Morocco.
Travellers seeking an unhurried getaway and an opportunity to find themselves in a distinguishing and intriguing environment can choose Chefchaouen as their destination because of its distinctive character and serene mood.
Here are The Top Places and things to do in Chefchaouen:
Blue Streets and Architecture: As we have elaborated, Chefchaouen is famous for its blue-painted streets, walls, and buildings. The Jewish immigrant community that came to this country in the 1930s is responsible for the blue tradition.
Outdoors and Scenic Views: If you want to explore the nearby natural beauty of Chefchaouen, you must go to the mountains on the outskirts of the city. Tourists can enjoy hiking trails in the Rif Mountains that provide breathtaking views of the city.
Kasbah: It is a museum displaying regional artefacts and located in the town's kasbah, or fortification. It is highly recommended to explore the gardens and take in the expansive view from the kasbah's tower.
Grand Mosque: The Grand Mosque, located close to the main square, is one of the most stunning examples of Moroccan architecture. But if you are a non-Muslim, you are not permitted to go inside. However, they can enjoy the exterior of the building.
Ras El Maa Waterfall: If you want an amazing view from A short walk from the city center, Ras El Maa waterfall is the perfect place for you. It is really one of the best waterfalls in the city and nearby. It is one of the gathering places of the city, and people come to spend their time there.
Local Markets: The local markets of Chefchaouen offer a variety of handicrafts, textiles, and souvenirs. If you want to buy something famous from this place, you can purchase high-quality woven goods, such as rugs and blankets.
Spanish Mosque: This mosque is located two kilometres beyond the Chefchaouen Medina. You must climb, but you will find it attractive. Tourists can enjoy the panoramic view of the city and its nearby area. Although This white-coloured mosque itself is a simple structure,it does not have any connection with the holy man.
Cafes and Restaurants: There is no good time for feeding yourselves. People can enjoy Moroccan food in the town's famous cafes and restaurants at any time of the day. You must try traditional foods, including tagine and couscous.
Photography: If you are in Chefchaouen and forget about photography, It is some kind of sin because blue-washed streets and buildings give endless and top-of-the-world opportunities for stunning photos. Photographers will adore it because of the distinctive colour scheme.
Local Culture: You will not feel left out because locals are Interactive and they do their level best to provide a comfortable zone for tourists. They are popular for their warm hospitality to visitors and for helping people learn about local culture and history.
Casablanca
Morocco's largest city, Casablanca (Arabian name: Dar al-Bayda), one of the major cities from a cultural and financial perspective, is internationally recognized for its advanced development, including the stunning Hassan II Mosque. If you are looking for a vibrant nightlife scene with old-fashioned but modern arrangements, Casablanca must be your top choice.
It may not possess the same traditional and familiar attractions as other Moroccan towns and cities, but it presents a mix of present-day buildings, active marketplaces, and a sophisticated vibe. No doubt, The city combines both traditional and modern elements and is frequently seen as a gateway to Morocco. It is a must-visit city during a trip to Morocco and worth visiting due to its modernity and energy.
Here are The Top Places and things to do in Casablanca:
Hassan II Mosque: Hassan II Mosque is one of the largest mosques in the world. It is a masterpiece of today's Islamic architecture. If you hire guided tours, they will provide information about the building's construction and its significance.
Corniche: Famous for its Atlantic beach clubs, coastline view, Hassan II Mosque, La Corniche, and Ain Diab. People can do activities like strolls, jogging, and lounging by the water. When sunset comes, beaches change into a party scene.
Mohammed V Square: It is a public square located in the center of the city. It is surrounded by several important administrative buildings (the Royal Palace and a historic courthouse) and landmarks. It was built in 1916 in honour of Morocco's King Mohammed V.
Old Medina: If you want to see the original local culture before the French establishment of Casablanca, then Old Medina is the perfect place for you. You can enjoy the real taste of Casablanca. People can explore many nearby landmarks.
Villa des Arts: It is located at Parc de la Ligue Arabe on Boulevard Brahim Roudani, and this art museum is a masterpiece of a mix of contemporary and ancient Moroccan art. There are many exhibitions, workshops, and cultural events that take place from time to time.
The Museum of Moroccan Judaism: Established in 1997, the Museum of Moroccan Judaism is the best place to Learn about the history of Morocco's Jewish community. You will be surprised to know that this is the only Museum of the Jewish community in the Arab world.
Royal Palace of Casablanca: As it seems from its name, the Royal Palace of Casablanca is the residence of the Royal family. People are not allowed to enter and tour the palace, but you can see a guard-changing ceremony happen daily. It is one of the four royal palaces in Morocco.
Central Market (Marché Central): Everyone should visit the local market in their style. Central Market is a kind of bustling market where people find their daily needs, including fresh produce, meats, seafood, and more.
La Corniche Beach: Everybody loves to be on the beach. So do you. People can Relax and chill out at the public beach in Casablanca. This beach offers everything to make your beach time memorable, including swimming and other water sports.
Shopping and Dining: Casablanca has a range of modern shopping malls and boutiques, offering a mix of international and local brands. Explore the city's diverse dining scene, which includes traditional Moroccan restaurants and international cuisines.
Nightlife: Casablanca has one of the best and most vibrant nightlife, with several clubs and entertainment places. You will be delighted after enjoying the nightlife of Casablanca.
Essaouira
It is a charming coastal town situated on the coast of the Atlantic in Morocco. It is famous for its laid-back atmosphere, historic medina, and artistic community. So, if you are looking for a unique blend of beachside relaxation and cultural exploration, then Essaouira is the best place for you.
Essaouira is a must-visit location due to its seaside beauty, active artistic community, and rich history. This seaside city is renowned for its laid-back vibe, ancient medina, and stunning coastline. It's a fantastic location for enjoying seafood, visiting art galleries, and engaging in water activities.
Here are The Top Places and things to do in Essaouira:
Medina of Essaouira: Formerly, it was known as Mogador. A UNESCO World Heritage site. It was settled during the 18th century, and the medina features blue-and-white painted buildings, narrow alleyways, and a bustling souk (market). It's a great place to explore everywhere, tour local boutiques, and take in the casual vibe of the community.
Skala de la Ville: Do you know that Sakala De La Ville was used in the series as the wall of one of Khalessi's fortresses? But It was built To defend the town from sea dangers. It's the finest place to take some pictures because it provides expansive views of the harbour, shoreline, and medina.
Essaouira Beach: Essaouira Beach is a popular location for water sports. You can do windsurfing and kiteboarding here because it is famous for its strong winds. If none of these things attract you, then this beach is still a great spot to unwind and take in the ocean views.
Port of Essaouira: With boats lining the docks and fishermen bringing in their daily catch, the Port of Essaouira is one of the most historic ports in the country. Visiting the Port of Essaouira is totally worth it.
Mogador Island: Visit this nearby island, which serves as a certified nature reserve. It's a fantastic location for wildlife observation, and you could potentially view some of the animals that currently live on the island!
Essaouira Ramparts: Located on the edge of the Ocean, Essaouira Ramparts is famous for its historic defensive walls and stunning views of the ocean. It is a must-visit place for travelers visiting Morocco.
Art Galleries and Studios: Essaouira has long been a haven for artists and creative individuals. Explore the town's numerous art galleries, studios, and workshops showcasing a wide range of artistic styles.
Spices and Crafts Shopping: This place is famous for Spices, fabrics, leather goods, and traditional Moroccan crafts. Few of the native commodities are sold in the souks of the medina. Remember to get the best deals!
Gnaoua World Music Festival: If you're visiting in June, you might have the chance to experience this vibrant music festival that celebrates Gnaoua music, a unique fusion of African, Berber, and Islamic sounds.
Essaouira Citadel: This historical site showcases a collection of cannons and artillery from various eras, offering insights into the town's military history.
Atlas Mountains
The Atlas Mountains, one of the highest peaks in North Africa, are known as mountains of mountains. It provides breathtaking views and chances for hiking, trekking, and other adventurous outdoor activities. It highlights the natural beauty and rich cultural legacy of Morocco. If you are a pro at trekking, a beginner, or a nature lover, this mountain range will make your trip memorable.
The Atlas Mountains stretch across North Africa, including Morocco, separating the Atlantic and Mediterranean coastlines from the world's biggest desert, the Sahara Desert. Visitors found mountains, landscapes, remote sites, and tons of adventure opportunities.
Here are Some of the Top Experiences and Places to Explore in the Atlas Mountains
High Atlas Mountains: The Toubkal National Park is a famous site within this range, which is known for offering a variety of trekking routes. Mount Toubkal is the highest peak in North Africa and one of the most difficult trekking destinations.
Ourika Valley: Marrakech is the nearby big city of the Ourika Valley, and it is renowned for its lush vegetation, terraced crops, and traditional Berber communities. If you are here, do not forget to visit the famous Setti Fatma waterfall.
Imlil & Tizi n'Test Pass: Imlil is one of the most picturesque villages, and it is the same place where hikes into the High Atlas Mountains start. One of the finest places to enjoy Berber hospitality and their culture As you cross the High Atlas Mountains, There is a pass named Tizi n'Test Pass, which provides beautiful views.
At Ben Haddou: This part does not belong to Atlas Mountain directly, but it is a UNESCO World Heritage Site. There is a famous place known as Ksar (a fortified village). It has been featured in many films and TV shows because of its unique architecture.
Valley of Roses: As it seems from its name, You can smell the roses. It is located in the Dadès Valley. Which is known for its rose fields, and every year a rose festival takes place here. If you are in the city during the blooming season, do not forget to visit this part of the Atlas.
Trekking and Hiking: If there is a mountain, there must be trekking and hiking points and the Atlas Mountains are paradise for trekkers. They have trails catering to different skill levels, and people from experts to beginners can easily find them here. You can go on multi-day excursions, climb difficult peaks, or go for casual hikes amid beautiful scenery.
Berber Culture: Every place has its own culture. So does Atlas Mountain. It is home to Berber communities with respectable cultural traditions. Many villages welcome visitors to learn about their lives, and they organise little music and dance events with delicious food.
Merzouga
Merzouga is not a big city, but big cities do not have what Merzouga has. It is one of the finest places to experience a desert picnic spot. It is a small town situated at the border of Algeria. Famous as the gateway of the Erg Chebbi, Merzouga is a charming place for spending dessert time. If you want them, you can Enjoy sandboarding, camel rides, and the breathtaking dawn and sunset over the dunes. Merzouga provides a chance to escape from your hectic life and take in the bleak beauty of the desert.
To reach Merzouga, people can take public transport from Marrakech, get a taxi, or rent a car. Do not forget to click amazing pictures of dunes and vast desert landscapes.
Here are some of the Top Things to Do and See in Merzouga
Erg Chebbi Dunes: It is a group of massive dunes and one of the highlights of Merzouga. It is formed by wind-blown sand, and it can reach heights of up to 150 meters. If you want to enjoy Desert Sunrise and sunset views, then go over the dunes and capture the moment.
Camel Trekking: If you are in the Desert and miss Camel trekking, it is considered that your trip has not been completed. Camel Trekking is a popular activity in Merzouga, and everybody should do it. You can do a camel trek to reach your desert camps, where you'll spend the night in Berber tents.
Quad Biking and Sandboarding: Tourists should Experience the desert's adrenaline side by taking a quad biking tour, or they can try sandboarding down the dunes. It is one of the most entertaining things they can do.
Gnawa Music: Gnawa Music is famous in Merzouga; its genre is rooted in African and Berber traditions. So, if you are there, you might have the chance to experience live Gnawa performances. It is quite fun for you. Tourists can go to Khamlia Village to learn new things.
Lake Dayet Srji: Do you know? Lake Dayet Srji is famous for migrating birds, and it depends on the season. This seasonal lake is the most entertaining part of the trip. It is near Merzouga, and if you have your vehicle, it takes around an hour to reach the Lake.
Desert Camps and Local Cuisine: Sounds exciting and adventurous. Imagine you are in the middle of the desert, there is a camp, and you are enjoying your food and music around the campfire. How adventurous is it? In Merzouga, many local vendors are providing these services.
Ait Ben Haddou
Due to its distinctive architecture and dramatic surroundings, this place is a UNESCO World Heritage Site and has been used as a shooting location for several movies and television production houses.
Ait Ben Haddou's unique architecture and historical significance, combined with its fame as a filming location, make it a must-visit destination for travellers, and if you are seeking a glimpse into Morocco's rich cultural heritage and cinematic allure, then Ait Ben Haddou is the right choice for you. This place is in the southern portion of Morocco. It is a ksar (fortified village) that has been preserved finely.
Here are some of the Top Things to Do and See in Ait Ben Haddou
Historic Architecture: Clay and mud blocks were used to build the walled town of Ait Ben Haddou. With its clear layout, ancient Moroccan construction techniques are on display in the buildings' beautifully carved facades, towering walls, and tight passageways. This place must be on your to-do list.
Explore Kasbahs: It means the citadel. There are several kasbahs, which are palaces or homes for local dignitaries, on the site. Oftentimes, these kasbahs feature breathtaking views of the surroundings and are decorated with elaborate ornamentation.
Enjoy Panoramic Views: If you want to enjoy an aerial view of the nearby places, you must climb to the top of the hill overlooking Ait Ben Haddou. From there, you can enjoy panoramic views of the Ksar, a river named the Ounila River, and desert landscapes.
Film Location: As we have said earlier, Ait Ben Haddou has been featured in many Hollywood films and TV shows, including "Gladiator," "Lawrence of Arabia," "Game of Thrones," and "The Mummy." If you have watched these films and TV shows. You can relate to these places.
Sunset and Sunrise: Indeed, the sunset and sunrise of this place must be watching. And if you are in Ait Ben Haddou, you must enjoy the sunset and sunrise. The beautiful golden color of the desert offers a spectacular theme for both sunrise and sunset views.
Ouarzazate: Due to many shootings, there is a special place named Ouarzazate. So, if you are in Ait Ben Haddou, you must visit the nearby town of Ouarzazate. It is famous for its nickname, "Hollywood of Morocco," because there are lots of production houses and film sets.
Rabat
Rabat is one of those cities that has both ancient and modern things. Tourists can Visit the Royal Palace, the Mohammed V Mausoleum, and the Udayas Kasbah.
Rabat is the capital city of Morocco. It offers historical landmarks with modern construction and a chilled environment. Rabat is known as one of the four imperial cities of the Moroccan Kingdom.
Rabat shares a rich history and is known as a pillar in the political and administrative fields of the country. Compared to some of Morocco's other busier towns, Rabat provides a more relaxing pace, making it a fantastic spot to discover history, culture, and architecture while taking in a laid-back and genuine Moroccan experience.
Here are some of the Top Things to Do and See in Rabat
Hassan Tower and Mausoleum of Mohammed V: A minaret of the supposed largest mosque in the world, the Hassan Tower is an incomplete mosque. During the late 12th century, this place was sanctioned by Abu Yusuf Yaqub al-Mansur. He was the third Caliph of the Almohad Caliphate. The Mausoleum of Mohammed V, where the late Moroccan king and his two sons were laid to rest, is situated nearby. Moroccan and European architectural influences are combined in the building. This place is a landmark in the city, and you can't miss it.
Mohammed VI Museum of Modern and Modern Art: It opened in 2014 and is known as the National Foundation of Museums of Morocco. It has modern Moroccan and world art pieces. In 2012, UNESCO listed it as a world heritage site. If you are an art lover and want to know about Moroccan art, this is the place for you.
Rabat Archaeological Museum: The Museum of History and Civilizations is known as the Rabat Archaeological Museum, and there are many collections of artefacts, including ancient pottery, sculptures, and Islamic art. It was opened in 1932 and is known as a hub for archaeological activities in Morocco.
Beaches: Talking about Rabat and forgetting to mention Beaches There are various beaches along the city's coastline where you can relax and take in the Atlantic Ocean. Plage de Rabat is one of the most famous beaches in the city.
Souks and Markets: If you go anywhere in Morocco, you will find a market. Rabat's Medina is one of them, and this market offers traditional things where you can shop for textiles, spices, handicrafts, and more.
Rabat Marina: Rabat City has a mixed culture. Rabat Marina is an area featuring a marina with yachts, shops, restaurants, and cafes. If you are with your partner, you can organise a romantic dinner date and many other things.
Agadir
Agadir is one of the biggest cities of the Agadir. Known for its beautiful beaches. Apart from all, Agadir is a modern resort city that offers opportunities for relaxation, water sports, and exploring nearby natural reserves. Agadir is known as the present-day resort city of Morocco, visitors can explore many nearby places of the city, enjoy water sports, and explore neighbouring natural areas.
Agadir is a modern coastal city located in southwestern Morocco along the shores of the Atlantic Ocean. This city is famous for its beautiful beaches, resort facilities, and pleasant climate. If you want relaxation, water sports, and beachside activities then you must come here. The City has everything like beaches, modern amenities, and a chilled atmosphere. These all things make it a perfect destination for those seeking a beach vacation with Moroccan spices. It's a city where you can enjoy both leisure and outdoor activities while soaking up the sun and sea.
Here are some of the Top Things to Do and See in Agadir
Agadir Beach: Perfect place to spend your day. The special beach of Agadir is one of the main attractions. It offers soft sands, clear waters, and other water sports, making it a great place for swimming, sunbathing, and activities like surfing and jet-skiing.
Kasbah of Agadir Oufella: Although the original kasbah was destroyed in an earthquake, the remains of the historic site offer panoramic views of the city, beach, and the surrounding landscapes.
Valley of the Birds: This botanical garden is home to a variety of bird species, making it a peaceful place for a stroll and a chance to see some local wildlife.
Souk El Had: This large market offers a wide range of goods, including fresh produce, textiles, crafts, and souvenirs. It's a great place to experience local Moroccan culture and shop for local products.
Agadir Marina: The marina area features restaurants, cafes, shops, and a promenade where you can enjoy leisurely walks and views of the boats.
Amazigh Heritage Museum: Famous museum of the Agadir and you must know about the history and culture of Morocco's indigenous Amazigh (Berber) population through exhibits showcasing their traditions, art, and way of life.
Souss-Massa National Park: Located near Agadir, this national park offers a diverse range of ecosystems, including wetlands, sand dunes, and forests, making it a haven for birdwatching and nature enthusiasts.
Conclusion
Remember that Morocco's charm lies not only in its iconic tourist spots but also in the interactions with its people, the diverse landscapes, and the rich cultural experiences that you can encounter throughout the country.
Inquiry
Leading online travel services provider
24X7 customer care helpline
Assured lowest prices and superior service experience
Access best flight options across all popular routes