24/7 Support
Available 24/7 to help
Secure Booking
Easy & Convenient Booking
Best Price Deal
Best Deals on Packages
24/7 Support
Available 24/7 to help
Secure Booking
Easy & Convenient Booking
Best Price Deal
Best Deals on Packages
Our benefits
Airlines reservation desk
Airlines customer service 24*7
Call now to book
Change/ cancel your flight
Call on 24*7 customer support airlines
No hold time
Airlines seats reservation
30% off for new booking

Chicago Travel Things: Everything You Should Know
Chicago, Also known as "The Windy City," is famous for its lovely music culture and as an international center for education, technology, and finance. There are many skyscrapers with an adorable city view, along with mesmerizing weather.
Chicago is one of the finest places for an ideal vacation in the United States. Notably, it has well-constructed streets lined with beautiful parks, big malls, delicious foods, and shopping places. We advise you to study our thorough Chicago City Travel Guide before your trip because, as a windy city, Chicago has countless surprises in store for its visitors. It is the third-biggest city in the United States after New York City and Los Angeles, and its metropolitan area is the biggest in the world.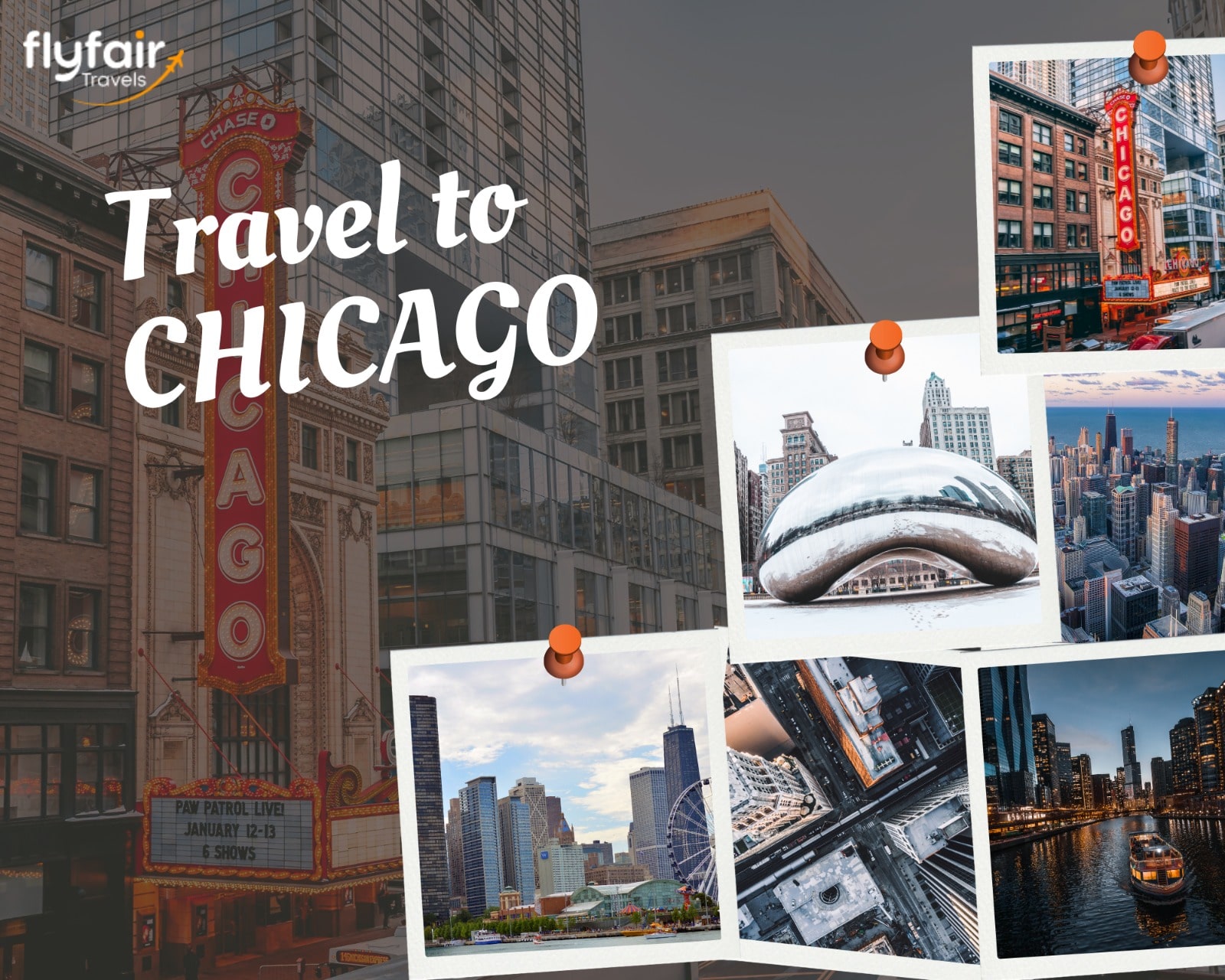 A Detailed Chicago City Travel Guide
Geography of the Chicago City
Chicago is in northeastern Illinois on the southwestern side of the famous Lake Michigan. The total area of the city is around 234.53 miles square (nearly 607.44 kilometers square). Two major rivers, Chicago and Calumet River, pass through Chicago. These rivers give mesmerizing views of Chicago, and Lake Michigan is a prime factor in the economy of the city. Calumet Harbor is famous for huge lake freighters, which is good for the economy. Generally, the city's metropolitan area has another name, Chicagoland, which means the city and its suburbs.
What is Climate of Chicago?
The city has decent weather conditions, and the mainland climate of Chicago City makes people enjoy all four seasons of nature throughout the year. Chicago has a summertime average temperature of around 24.4 °C and generally a temperature rise of 30 °C, which is still better than other cities in the country. Because of the city's location, you can benefit from cooler weather even throughout the summer; this is one of the prime benefits of the Chicago summer season. Here in the winter, temperatures are frequently below freezing. Winter is so cold. Additionally, the city occasionally receives a good amount of snowfall in January and February, which are the coldest months of the year. The temperature is generally fall-minus in the winter season (in 1985, -33 degrees Celsius), and the average temperature is around 1 degree Celsius.
What is mode of Transportation to Chicago?
Chicago has excellent air, rail, and road connections to all other countries. You name the city in the United States, and you can go from any city in the USA. It depends on your desire, budget, and decision because most kinds of transportation are available to reach other cities from this amazing Illinois city. If you want, you can choose aircraft, buses, vehicles, rented vehicles, or trains to Chicago. The important thing is time. When you have plenty of time, you can go by road. If you have restrictions, you should choose flights.
What is the Major airports in the City?
In contrast to other transportation options like roads or trains, traveling to Chicago by plane is the most practical, convenient, and easy way to get there. If you want to know about the city and method of travel, read our Chicago City Travel Guide and book flights to Chicago on any airline (if any flight is available) we have mentioned below.
City has three major airports: O'Hare International Airport, Chicago DuPage County Airport, and Chicago Executive Airport.
O'Hare International Airport: O'Hare International Airport is the main gateway to the city and is well connected with the rest of the world. It is located in the northwest direction of the city. The distance between them is approximately 17 miles (27 kilometers) and covers 7,627 acres of field. The airport has five terminals. In 2021, more than 54 million passengers traveled from this airport. It was opened in 1944, traveling almost to 214 destinations and more than 900 daily flights from Chicago to domestic or international destinations.
What are Airlines That Offer Flights to Chicago?
Chicago has many airline options. It means many airlines have flights to Chicago every day. And some of them are mentioned below. Remember, United Airlines has a hub at Chicago O'Hare International Airport? Almost all major airlines fly to Chicago, but we have only mentioned a few of them.
American Airlines
United Airlines
Alaska Airlines
Delta Airlines
Southwest Airlines
What is the Best Time to Visit Chicago?
Chicago is the kind of city you can visit any time of year, and you will find it worthwhile, but if you want to have the most pleasant time visiting the city, when it looks lovely and packed with tourists, you should make plans between September and October. The weather is pleasant and mild. And the city's beauty is still at its height during these two months, making it an ideal time for indoor and outdoor activities.
Tourist Attractions in Chicago
Chicago is full of exciting places and wonderful things to do. Below, we have mentioned some of the top places tourist should not miss during trip to Chicago.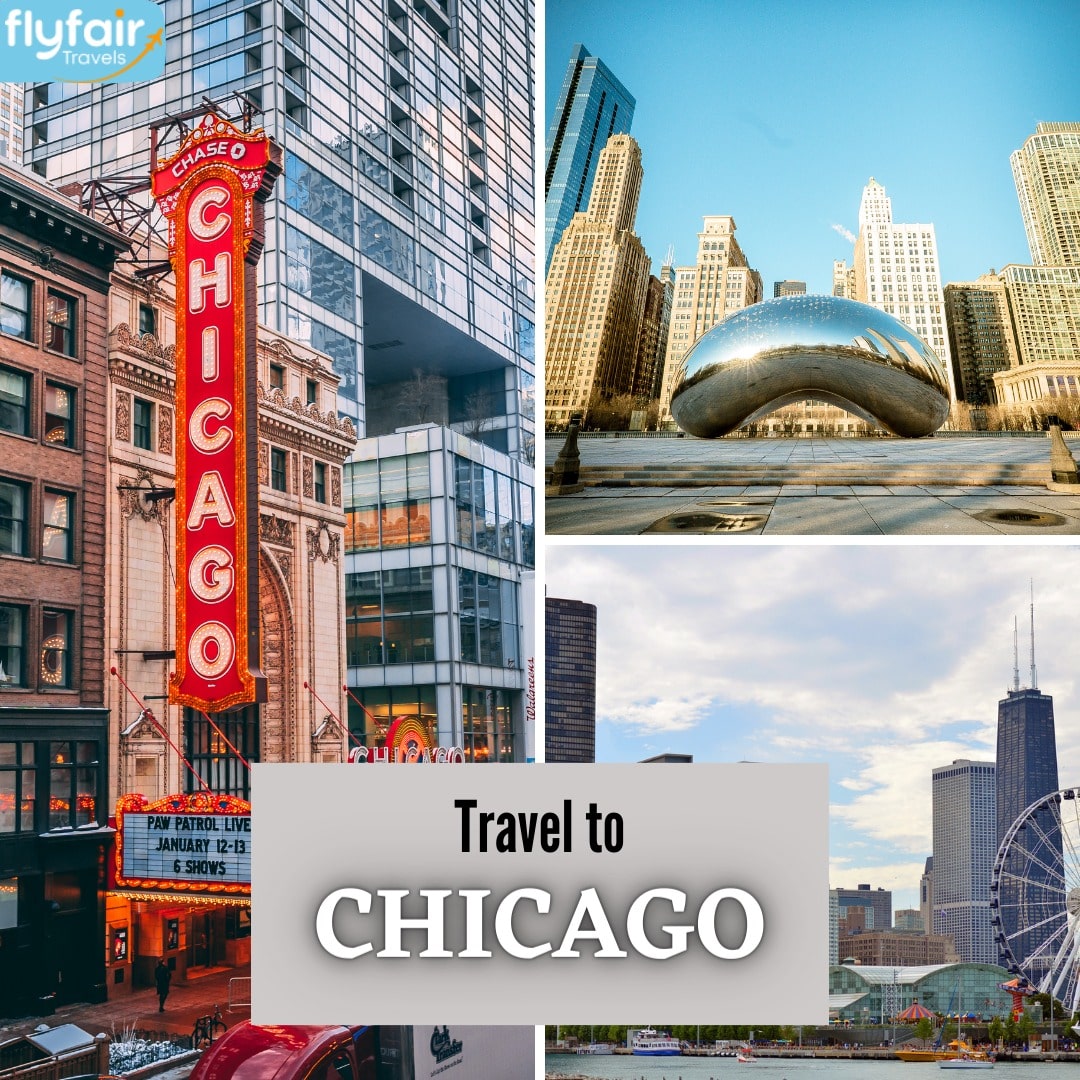 Cloud Gate
A landmark sculpture in Chicago by Indian-born British artist Anish Kapoor It is a masterpiece at Millennium Park. Constructed from 2004 to 2006 and based on its shape, it is called The Bean. It is 33*42*66 (length*width*height) and uses 168 stainless steel plates, and its weight is approximately 100 tons. It is one of the best tourist attractions in Chicago.
Magnificent Mile
Have you ever heard about the Magnificent Mile of Michigan Avenue? If yes, then fine; otherwise, we will tell you that sometimes. This place is known as The Mag Mile and is home to a wide variety of upscale stores, restaurants, and hotels. Famous for its shopping surroundings, and you can indulge your inner shopaholic in Chicago's shopping area. After that, you can enjoy the unbeatable cuisine offered in the fine restaurants of this place. The nightlife of the Magnificent Mile is also famous among the people. So, do not miss it.
Riverwalk
What about walking around the river and enjoying the view of the city? Yes, it is accessible in Chicago. The Riverwalk is the ideal location to spend an evening with your loved ones, and it is 3.4 miles long. If you are with your life partner and looking for a memorable time, any of the restaurants or pubs would be ideal for a romantic date night. You can kayak or ride a boat down the river to discover something new about the city and enjoy the view of the city from the water.
360 Chicago
If you want to take an amazing aerial view of the city, 360 Chicago is the perfect place. It is an observation desk 1,000 feet above Chicago's famous Michigan Avenue. This place offers the best view of the Chicago skyline and Michigan Lake. They offer parking, wheelchair access, and parking facilities.
Willis Tower Sky Deck
It is one of the most famous tourist attractions in Chicago. The most interesting part of this place is that it is the highest observation deck in the United States. Tourists can get a picture of the city from 1,353 feet above ground level through the retractable glass balconies. It will give visitors a lifetime of experience, and they must include it in their top places to visit in Chicago's checklist.
Buckingham Fountain
It is located in the heart of the famous Grant Park neighborhood of Chicago. One of the biggest fountains in the world is the Buckingham Fountain. From 8am to 11pm, this finest ornamental fountain in America presents a significant water show. Arrive there before 10:35 p.m. to catch the last water show, which is accompanied by a spectacular light and music display. If you are in the city for a short visit to this place. It is worth it to be here.
Millennium Park
A famous saying about this place is that if you miss Millennium Park, your vacation in the windy city is not complete. "The Bean," a steel sculpture in the shape of a bean that mirrors the cityscape of Chicago, is the park's major attraction. It is one of the best things to do in Chicago, and if you're lucky, you might even catch a live concert or other event taking place in the park. In a nutshell, there are lots of things you can enjoy in Millennium Park.
Navy Pier
This 3,300-foot-long pier situated on Lake Michigan's shore is the perfect place for magnificent exhibition spaces, home to lush parks, adventure, and fun things to do with family, tasty food shops, picture-perfect gardens, and other shopping. If you want to see an amazing aerial view of the city while taking an exciting wheel ride in the park, you can do so. So, if you are with your family in the city, you should not miss going to this place.
North Avenue Beach
If you are looking for a swimming place in Chicago, North Avenue Beach is undeniably the most suitable and famous swimming area in the city. It offers a reasonable area for guests to engage in a variety of entertaining activities. Although it is one of the top things to do in Chicago, numerous tasty and well-known restaurants are serving mouthwatering foods. This place is complete in itself. And will make your day in Chicago perfect.
Famous Restaurants in Chicago
Alinea
Alinea receives the honor bestowed by the AAA, the AAA Five Diamond Award, as the only restaurant in Chicago to maintain its three-star classification. Alinea delivers delectable food and is ranked among the top restaurants in the world, so you can't afford to miss it during the trip to Chicago. So, you must try the food of Alinea and share your taste with your friends.
The Berghoff
Are you looking for delicious German cuisine in Chicago? The Berghoff is the perfect place for you. It is a 121-year-old celebrated restaurant in the city. Famous for serving mouth-watering delicacies and fresh beer, you can enjoy its fine German foods and other kinds of foods. Eating at Berghoff's. This Place is worth visiting.
Transportation in Chicago
Chicago Transit Authority (CTA)
Chicago has good transportation connectivity. You can travel with the CTA to Chicago and its 35 surrounding suburbs; more than 1.6 million people use it for their rides every day. You must know that the CTA is the second-largest operating public transportation system in the USA.
Metro Rail
This rail system in the city is effective, and you can reach anywhere via rail. There are 242 stations on 11 lines, and rail is the easiest and most convincing way to travel through the city.
Taxi
Taxis are one of the most common modes of transportation in a windy city. If you are looking for the finest option for a quick ride in and around the city, you can choose a taxi. There is a Chicago app that tourists can use to roam and make online payments for a taxi ride. If you are a first-time visitor and do not have enough knowledge about the city's transportation, this will help you.
Water Taxis
If you want to see the city by water, you must hire water taxis; they are useful to reach from one place to another. Water taxis offer an entertaining way to visit the city.
Premium Cars like Limousine, Rental Car, and Shuttle Services
People can book limos or their private shuttle to enjoy and explore the city. There are many local service providers; you can contact them, and they will deliver vehicles to airports.
Famous Sports in the City
Chicago is also known as the "Best Sports City" in the United States. Since 1872, along with Boston, Chicago is perhaps the only city in the USA to have hosted major professional sports. Remarkably, the city is full of sports followers.
Chicago Sports Museum
The museum has numerous roller-coaster skill challenges that use body-tracking technology to score. The Chicago Sports Museum commemorates sporting events through simulations and antiques. It also has the city's 2016 World Series memorabilia.
United Center
The United Center is an indoor arena, the home ground for the world-famous Chicago Bulls for basketball and the Chicago Blackhawks for hockey. If you visit during the off-season, you can watch many famous artists and musicians performing here. So, this is an evergreen place in Chicago.
Atlanta History Centre
This museum features exhibits on the history and culture of Atlanta and the American South, including Civil War artifacts, folk art, and historic homes. Visitors can also enjoy walking trails, gardens, and special events.
Whirlyball
If you want to spend your weekend in perfect shape, go to Whirlyball. It is a nice spot to be on your weekend; it features three whirly ball fields to play. There are 12 bowling lanes, a multi-level laser tag arena, and a terrace with views of Chicago's skyline.
What to pack for a vacation to Chicago?
It is a genuine question of any tourist what they packed during travel to Chicago. So, you can start with the necessities when packing, It could be clothing and toiletries. Also packed according to the current weather and climatic conditions, you can know about current conditions via online websites. To make your travel lighter but sufficient, kindly check off the following items while packing the mentioned items.
Make Sure You Have A Portable charger: It is vital to keep your electronic gadgets alive. So, make sure you are carrying a portable charger to keep devices alive and pack them on a priority basis.
Hand Sanitizer: After the Covid-19 situation, every tourist should carry hand sanitizer. It is highly recommendable to all tourists. It keeps you safe or reduces the chances of several diseases while traveling.
Water bottle: It is one of the prime things to carry. Kindly, keep your water bottle with yourself to reduce your risk of dehydration.
Map and Camera: You should keep a handy map of Chicago and it's nearby where you are supposed to be going. The map will help you to find places easily. You can bring your camera to click beautiful and refreshing moments of the trip. Although the mobile is there, the camera is something good.
Backpack: Everyone who travels ought to bring a piece of luggage with them to carry crucial documents and other items. Also, choose a bag large enough to hold all of the aforementioned items safely.
Now, you are much aware of the places by reading this Chicago Tour Guide. So, it is time to book your flight to Chicago for a perfect vacation.
Inquiry
Leading online travel services provider
24X7 customer care helpline
Assured lowest prices and superior service experience
Access best flight options across all popular routes